BANBURY MOURNS LOSS OF LEGENDARY CAMPAIGNER GEORGE PARISH
26 November 2016
People throughout the Banbury area will be saddened to hear of the death of George Parish on Saturday 26th November. He served the community in so many ways over the years, including as Councillor and Town Mayor, but it is probably his tireless efforts on behalf of the Horton General Hospital for which he will best be remembered.
George was the first chairman of Keep the Horton General and filled the same role for its predecessors. His work for the cause was tireless and inspirational but perhaps his greatest strength was his ability to get on with everybody. The description "man of the people" fitted him perfectly.
The high point of his leadership came in 2008 when the Independent Reconfiguration Panel rejected plans to downgrade our maternity and children's services. Unfortunately in recent years his health deteriorated and he was unable to take part in the campaign against the more far-reaching threats we are now facing; but he would have been with us in spirit and his memory will continue to inspire us.
It was a privilege to work alongside such a great man.
Our thoughts and sympathy are with his family at this time.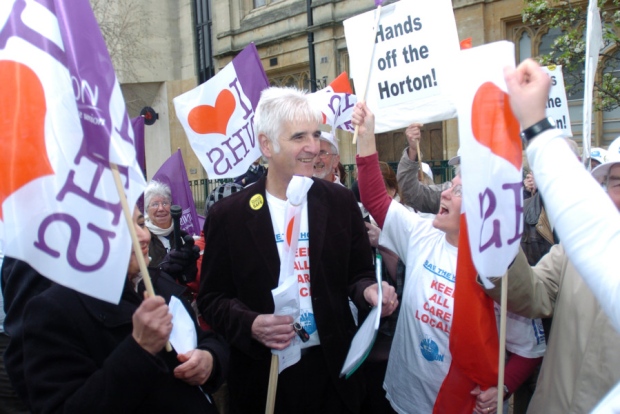 Banbury's hero, George Parish, pictured at the succesful conclusion of the 2006-2008 campaign
Link to Banbury Guardian article
Posted : 27 November 2016