See below for the latest news! Why not join the Save Our Horton facebook group and get the latest news and discussion straight away?
Or jump right in with these links:
What's going on?
What we're doing
What can I do?
Contact us
Take action on the "Hospital Closure Clause"
Health Secretary Jeremy Hunt didn't like losing in Lewisham, so he's trying to introduce a new law which would give the government free rein to close hospitals across the country.

With just a few days left until MPs vote on it, one MP has introduced an amendment which would scrap this dangerous clause. The amendment would replace the clause with new wording to guarantee local doctors and patients a final say in changes to local NHS services.

MPs know that elections are won and lost on the NHS - so why not let yours know how you feel about it?

It'll only take two minutes to email and there's help with what to say on 38 Degrees' web page. Follow this link to get started:

https://secure.38degrees.org.uk/page/speakout/hospital-closure-clause-c
8 March 2014
Health Overview and Scrutiny Committee meeting
On Thursday 27 February, KTHG campaigners attended a meeting of the influential Oxfordshire County Council Health Overview and Scrutiny Committee (HOSC). We hoped to persuade them to demand a full consultation on the removal of emergency general surgery from the Horton General Hospital, as was promised by the trust when the service was withdrawn 14 months ago.

It should be noted that both the Oxfordshire Clinical Commissioning Group (OCCG) and the trust (OUHT) admitted that there had not been proper consultation, and that both organisations bore responsibility for this.

It was therefore very disappointing that the Health Overview and Scrutiny Committee agreed, without a vote, to permanently remove emergency surgery from the Horton.

KTHG continues to strongly disagree with this decision and is considering the best way to continue the campaign to overturn it.

In particular, we remain concerned that there is no North Oxfordshire representation on the Oxfordshire Health Overview and Scrutiny Committee. We feel the lack of representation was significant to the outcome of yesterday's meeting. We will continue our efforts to resolve this matter, so that the Banbury area has the correct level of input to the Health Overview and Scrutiny Committee.
27 Feb 2014
ANOTHER IMPORTANT MEETING!
Banbury Town Hall, 6.30pm on Monday 24 February
Don't you just wish you could tell someone how important it is to keep our services at the Horton General Hospital? Someone that the trust actually has to listen to?
Well, now you can!

THE CARE QUALITY COMMISSION IS COMING TO VISIT - and they want to hear from YOU!

The Care Quality Commission (CQC) is the independent health and social care regulator for England. They inspect NHS organisations to check that staff and services are meeting legal standards laid down by law and then they make their findings public.

What will happen?

A large team, made of up of around 60 inspectors, will inspect the OUH's four hospital sites from Tuesday 25 February. The inspectors are likely to be here for two days but they can then come back any time, unannounced, for spot checks over the following two weeks.

I want to talk to them! How do I get involved?

Just turn up at one of their listening events. There will be people sitting at tables waiting to talk to you!

Banbury's will be at Banbury Town Hall, on 6.30pm on Monday 24 February
Oxford's will be at Oxford Town Hall, also on 6.30pm on Monday 24 February

Or contact them at any time:
• Online: http://www.cqc.org.uk/contact-us
• Email: enquiries@cqc.org.uk
• Post: CQC, Citygate, Gallowgate, Newcastle upon Tyne, NE1 4PA
• Phone: 03000 61 61 61

If you've got something to say, to someone who wants to listen - THIS IS YOUR OPPORTUNITY!
HORTON MEETING AT RYE HILL, 5 FEB 2014:
INITIAL THOUGHTS
It was pleasing to see the hall full of supporters despite the dreadful weather, blocked roads, complete lack of signage, inappropriate location and registration hurdles!
The two-and-a-half hour meeting was packed with information, questions and answers which will take us a while to go through. While we come up with our definitive statement, you can:

- check out the Banbury Guardian's report or
- read out blow-by-blow account, tweeted live from the scene, on twitter
(twitter handle @savethehorton )
- at long last, here is a link to the trust's video of the meeting - one that actually works
http://www.ouh.nhs.uk/news/article.aspx?id=197
6 Feb 2014

IMPORTANT UPDATE RE MEETING AT RYE HILL
The trust has told some people who registered today that the venue is now full, so they will not be admitted to the meeting, but will instead be put on a reserve list.

Our advice is, IF YOU HAVE NOT REGISTERED DIRECTLY, PLEASE DO SO IMMEDIATELY to give yourself the best possible chance of being admitted if other people do not turn up.

For those of you who are on the reserve list, and for anyone who has not registered directly with Caroline Rouse, we urge you to ATTEND ANYWAY to make the point that it is a public meeting.

However, if you have not registered AND you are unwell or expect to suffer undue hardship getting there, please take the likelihood of non-admittance into account when deciding whether or not to make the trip.
Join our facebook group Save Our Horton to have your say - this is a hot topic right now!

4 February 2014
Come and say hello
The campaigners will be wearing Keep the Horton General t-shirts at the meeting on Wednesday, come and say hello!
4 February 2014

PUBLIC MEETING -
VENUE IS RYE HILL GOLF CLUB, MILCOMBE
Wednesday 5 February 2014 6pm - 8.15pm
We were notified today, exactly eight days prior to the desperately important meeting about the withdrawal of Emergency Abdominal Surgery, that the "meeting in Banbury" will actually be held at Rye Hill Golf Club, Milcombe - a venue some 6 miles from Banbury with no public transport links to anywhere.

Our own enquiries indicated that St Mary's, the obvious venue, is available on that date. However, the trust say they have an email that states otherwise, so there is clearly some confusion here which at the time of writing remains unresolved.

Nonetheless, it is widely agreed that the venue choice is a poor one. There are several areas of high deprivation in Banbury where many of the residents do not own their own transport. At a single stroke, the OUHT and OCCG have denied all those people a chance to have their say about the future of their hospital (unless they are prepared to take the chance that they will get a space on the first-come first-served coach that the OUHT/OCCG have laid on). The venue choice will also create a significant barrier to others, who will be reluctant to drive across town to an unfamiliar location in poor weather, or those who would have come along to the meeting when their shift finished had it been held in town.

This is in addition to the barrier presented by the requirement to register. (You can register by calling the trust's representaive Caroline Rouse on 01865 231472 or emailing caroline.rouse@ouh.nhs.uk)

We will endeavour to ensure that the people of Banburyshire have the opportunity to have their say, in the face of this additional obstacle and will let you know further developments asap.

28 January 2014

Bus details

From the trust's press release:

"As there is no public transport to this venue we have made arrangements with a local coach company, Cheney Travel, to provide a coach from Banbury Cross to the venue and back again for anyone who is unable to get there by private car.

The coach will wait at Banbury Cross from 5pm and then leave promptly at 5.30pm in order to reach the venue in time for the meeting. Places on the coach do not need to be booked but will be allocated on a first come first served basis. The coach will then leave the golf club at 8.30pm and return to Banbury Cross"

We understand the bus has seats for 53 people.

TIME TO SPEAK OUT!
Public meeting 5 February 2014
CALL TO ACTION FOR ALL WHO LIVE IN BANBURY AND WANT TO KEEP SERVICES AT THE HORTON GENERAL HOSPITAL

Emergency abdominal surgery was removed from the Horton – without any warning – exactly a year ago. The Oxford University Hospitals Trust promised us all a public consultation - but this failed to materialise.

Due to an impassioned presentation by Keep the Horton General chairman, Keith Strangwood, to the Health and Overview Scrutiny Committee in Oxford last month, it was agreed that there would be a public meeting.
The trust's Public Event will be held in Banbury on Wednesday 5 February 2014 from 6pm-8.15pm. They haven't advised the venue yet.

This will be an opportunity for local people to give their views on the kinds of outpatient clinics and day surgery they would like to see brought to the Horton from the hospitals in Oxford, as well as to discuss the issue of emergency abdominal surgery on the Horton General Hospital site.

This is your opportunity to make your thoughts and experiences known at a public forum. Please come, and also tell anyone who is a potential Horton user. Join us and have your say!
IMPORTANT: you need to register to attend but don't let this put you off - all you have to do is email caroline.rouse@ouh.nhs.uk ("I am coming to the meeting in Banbury on 5 Feb" will do) or call 01865 231472.

Press release Jan 14 - Public Meeting

Jan14
Summary of our statement to the Oxfordshire Health Overview & Scrutiny Committee
6 December 2013
As the Oxford University Hospital Trust has failed to carry out the legally required consultation process re loss of a major service from the Horton, we asked that the matter be referred to the Secretary of State for Health, Jeremy Hunt, for his consideration. The referral to the Secretary of State for Health was proposed and seconded by Cllr Sibley and Cllr Pete Handley.
Following debate, it was agreed that that a public meeting would take place early 2014, in Banbury, in regards to loss of services at the Horton. The Oxfordshire Clinical Commissioning Group (the group who decides which services are provided and by whom) will feed back the input from that consultation to a Health Overview and Scrutiny Committee meeting, scheduled for 27th February 2014, for their consideration.
North Oxfordshire lost its representation on the Health Overview and Scrutiny Committee at the last local elections, and our efforts to rectify the situation since then have been unsuccessful. The lack of a North Oxfordshire voice was very clear during the debate, and this has spurred us on in our efforts to get a Keep the Horton General campaigner co-opted onto the Health Overview and Scrutiny Committee at the next opportunity, likely to be Jan/Feb 14.

Do you want a say in how Oxfordshire's health services are run?
November 2013
The Oxfordshire Clinical Commissioning Group (the group which decides which services are purchased and provided) is holding a meeting at Banbury Cricket Club on 3 December 2013.

If you want to have a say in what is going on in your health service, you'll want to be there!
IMPORTANT – please note that you have to formally ask to attend (see the OCCG's message, below) Don't be put off if you want to go! There will be lots of Keep the Horton General members there to keep you company.
Here's the OCCG's message in full:
Oxfordshire Clinical Commissioning Group
Our Strategic Direction: 2013 - 2018

You've been invited to participate in the Our Strategic Direction: 2013 - 2018 consultation by the consultation manager, Julia Stackhouse.
Our Strategic Direction: 2013 - 2018, describes our views about the challenges the NHS in Oxfordshire faces over the next five years, and the emerging strategy to deal with these issues. The purpose of this document is to enable a debate with our partners, staff, people who use our services and live in Oxfordshire about what needs to do to be done to address these issues, and how the local NHS should work together to deliver the changes required.
OCCG wants to ask you if the opportunities identified in our strategy will help to address the challenges in Oxfordshire. Your views on how you can help us to achieve and maintain financial stability in Oxfordshire, are really important. To participate in this debate you can:
- Download the document which sets out OCCGs' Strategic Direction: 2013 - 2018 and send your comments in to us by using the following url:
https://consult.oxfordshireccg.nhs.uk/consult.ti/5yrstrat/consultationHome
- Answer our online survey:
https://consult.oxfordshireccg.nhs.uk/consult.ti/5yrstrat/consultationHome
- Participate in our discussion forum:
https://consult.oxfordshireccg.nhs.uk/consult.ti/5yrstrat/consultationHome
- Attend a public meeting to discuss your ideas and hear the views of others:
- Wantage, 19 November, 1pm - 5pm
- Witney, 20 November, 6.30pm - 9.30pm
- Oxford, 21 November, 9am - 12pm
- Banbury, 3 December, 1pm - 5pm
- Bicester, 5 December, 9am - 1pm
- Wallingford, 19 December, 9am - 1pm
For further information about the events or to book a place to attend, please contact 01865 334638 or email
cscsu.talkinghealth@nhs.net
(Please note, if you haven't used Talking Health before you will need to complete the registration form first)
If you would like to book to attend any of the events, or would like to request hard copies of the survey, please contact us at
cscsu.talkinghealth@nhs.net
or phone 01865 334638. We would also encourage you to share this information above with other contacts or organisations that you think would like to get involved.
Lobbying pays off!
8 November 2013
Months of tenacious lobbying has paid off - we're delighted to say that, at last, the Horton situation is going to be discussed at the next meeting of the Health Overview and Scrutiny Committee.

Why is that important?

The Health Overview and Scrutiny Committee is the ONLY group who can refer this to the Secretary of State for Health. In the last campaign, this referral was a vital step in overturning plans to axe obstetrics and paediatrics.

So this is really good news!

Keith Strangwood praised the Health Overview and Scrutiny Committee chairman, Councillor Lawrie Stratford, for agreeing to take this issue on. "We're confident that he will ensure the Horton Hospital concerns are thoroughly scrutinised," he said. "The OUHT can't be allowed to get away with using the Royal College of Surgeons report to justify the removal all Emergency General Surgery from the Horton General Hospital, when the report supports no such thing."

The RCS report was at the centre of the decision to axe Emergency General Surgery and was finally released in late August, after months of pressure and investigation by the Keep the Horton General campaign. The Trust had done nothing to correct the misconception that the report supported the removal of all Emergency General Surgery, and the long delay in releasing the report added to the confusion.

The report, when finally released, was found to be much narrower in scope, and related to only one single type of operation, laparoscopic cholecystectomies, not the whole of Emergency General Surgery.

Keep the Horton General will continue to lobby other influential groups and individuals who were misled by the Trust's misrepresentation of the contents of the Royal College of Surgeons report.
Why was Emergency Abdominal Surgery removed? OUHT to face public questioning
Sept. 2013
Are you interested in hearing the OUHT's justification for the sudden removal of Emergency Abdominal Surgery from the Horton?
The Community Partnership Network is meeting at Cherwell District Council at 10am on Tuesday 10 September 2013. For the first time, the OUHT will face public questioning about the recently-released, redacted Royal College of Surgeons' report. This report was widely thought to have suggested the removal of Emergency Abdominal Surgery – but it didn't!
KTHG will be there in force and will be asking some searching questions. If you want your voice heard, or simply want to hear what the OUHT have got to say in response, please join us. All welcome.
Where is the meeting?
Cherwell District Council's offices in Bodicote.

What time?
10.00 am on Tuesday 10th September 2013
You're sure I'm invited?
Absolutely.
A new way to contact Keep the Horton General
You can now contact Keep the Horton General by phone. Call us on 07866 857515 and leave a message if not answered immediately. We'll get back to you as soon as we can.

Of course you can still email keepthehortongeneral@hotmail.co.uk or message Horton Campaigner on Facebook, if you prefer.
OCCG to meet in Banbury, 25 July 2013
The Oxfordshire Clinical Commissioning Group are the people who decide which NHS services are commissioned (i.e. which services are funded and provided).
They are holding a Meeting in Public at Banbury Cricket Club in Bodicote, from 9.30 to 12.30 on Thursday 25th July.

The public is allocated a 15 minute slot for questions related to the agenda items. Questions should be submitted in advance by one of these methods:

Email: oxon.gpc@nhs.net

Write to:
The OCCG Business Manager
Oxfordshire Clinical Commissioning Group
Jubilee House
5510 John Smith Drive
Oxford Business Park
Cowley
Oxford
OX4 2LH

Or hand a hard copy of your question to the OCCG Business Manager at the meeting.
Where is the meeting?
Banbury Cricket Club in Bodicote.

What time?
9.30am to 12.30 on Thursday 25 July 2013
You're sure I'm invited?
Absolutely.
New chairman for Keep the Horton General
17 June 2013
Following an excellent day at the Banbury Show (Sunday 9 June 2013) promoting the work of Keep the Horton General campaign and meeting hundreds of interested local residents, we are delighted to confirm the appointment of Keith Strangwood as Chairman.
Former local councillor Keith has a wealth of contacts both amongst members of the public and through his work with local and county councils. His depth of knowledge of local affairs will undoubtedly be a major asset to the campaign.
Acting Chair, Charlotte Bird, now Vice Chair says 'The campaign group is extremely fortunate to have a person of the calibre of Keith Strangwood taking over the role of Chair left vacant after the retirement of George Parish. We will become a stronger group as a result. George, Honorary Chairman, is still very much the figurehead of the campaign group as was proved on Sunday when he found himself being mobbed during his visit to the KTHG stand.'

Newly appointed Chairman Keith is enthusiastic about his new role.
'It has been a privilege and pleasure to work alongside George and all the members of the KTHG .We are all volunteers who give up our time and work as a team to ensure our much loved Horton General Hospital retains all its needed services. There is nothing stronger than the heart of a volunteer, as they will not stop until the job is done. The KTHG is a huge heart that is working for all the Horton staff and users. I thank the members for appointing me as Chairman and would like to thank all of its current members and past members for keeping the group united in its cause'.
New email address
June 2013
We must confess we were a bit puzzled when Sir Jonathan Michael criticised us for saying there was a crisis, because we thought we'd been careful not to say that - just to spell out where there were proposals for change. Then we worked it out.
We were still using the "hortoncrisis" email address.
This was the email address we used during the maternity / paediatrics campaign a few years ago, which most people agree was indeed a crisis. We just carried on using the email address without any thought.

Cue some frantic revision of all our publicity material ready for the Banbury Show on Sunday 9th June! We owe a huge thank you to Mark at Buzz Design and Kevin at Colourburst, who put together the new graphics and printed the flyers and carstickers in record time. Absolutely fantastic service. Thank you so much, Mark and Kevin.
Our new email address is keepthehortongeneral@hotmail.co.uk but the old one will keep working for a while so we don't miss anything important.

Please note:

Monday 3 June 2013 is NOT a public meeting
Please note the error made by the Banbury Cake in their article dated 30 May 2013. The meeting between KTHG and the OUHT on Monday 3 June is NOT a public meeting.

CPN Meeting -

Tuesday 11 June 2013 IS a public meeting
Members of the public ARE invited to attend the meeting of the Community Partnership Network (CPN) on 11 June. There should be the opportunity to ask questions of the OUHT. However please note that public attendance is limited by the available space, and due to time there may not be the opportunity for all attendees to ask their question. If you're thinking of coming it would be great if you could let us know so we have an idea of numbers.

What is it?
The CPN is a forum where representatives of all the groups with an interest in the Horton General Hospital can talk through proposals with the OUHT. We have two members.

Where is the meeting?
Cherwell District Council's offices in Bodicote.

What time?
10am on Tuesday 11 June 2013

You're sure I'm invited?
Absolutely.
A statement from Keep the Horton General regarding "crisis" allegations
23 May 2013
In response to Sir Jonathan Michael's letter of 1 May 2013 to Sir Tony Baldry, in which he wrote "I very much share your frustrations about the manner in which the Banbury Guardian and the Keep the Horton General group are seeking to give the impression that there is some form of crisis at the Horton", Keep the Horton General made the following statement.
"The only Horton "crisis" we are aware of was the one announced by the OUH on the 16th January.
At an emergency meeting of the Community Partnership Network (CPN) we were told that due to the sudden and unforeseen absence of several surgeons it was no longer possible to carry out Emergency Abdominal Surgery at the Horton and all patients requiring this would have to be sent to Oxford.
What was not made clear at the time was that this did not mean just those found to need urgent operation (on average 5 per week) but all those needing assessment for possible surgery, amounting to 4 times that number. There was reference to a specially commissioned report by the Royal College of Surgeons declaring the Horton service to be unsafe but whether this was due to shortage of staff, lack of appropriate skills or other factors is unknown to us as no details of the report have ever been released, despite numerous requests. It has now been stated that a redacted version will be made available "in due course".
Whatever the problem may have been, it has been made plain that the Trust does not intend to correct it. This means not only that for the foreseeable future all patients with possible abdominal emergencies will have to be assessed in Oxford but there are further potential consequences not only for the surgical service but for others, including the admission of medical emergencies.
This is a major source of concern to us and the reason we have continued to seek clarification of the long term plans for the Horton. We are told that the change is "in line with modern medical practice". If this is so it must be affecting other hospitals of the size of the Horton so we asked at the January meeting for examples from elsewhere. No such evidence has yet been forthcoming so we are carrying out our own investigations.

Despite all the above, the Trust intends to include this transfer of emergency abdominal surgery in a formal 3 month consultation. This has been postponed twice, initially to late May to avoid clashing with the Local Elections and now until December, apparently to give the Clinical Commissioning Group time to prepare, although papers to the Group's March Board meeting implied it was ready for a start in May. In any case, there must be a question mark over the validity of a consultation when the decision has already been taken.

There have been changes in several other Horton Services, sometimes after notification that a review was taking place, allowing opportunity for comment, in others, like Radiology, they appear to have taken place without any notice to the CPN . Even where we have been aware of an ongoing review, it has been difficult to get information on how it is progressing and final decisions have sometimes been announced in very general terms, capable of different interpretations.

It has now been agreed that the Trust will provide answers to a series of questions we have submitted and senior staff will attend a meeting of KTHG on 3rd June to discuss those answers. The questions and answers will then be reported to a meeting of CPN on 11th June which will be open to members of the public who will then have the opportunity to make their own judgment on whether KTHG has been acting in their best interests."
Response to comments by OUHT chief executive Sir Jonathan Michael
16 May 2013
Well, it seems we've hit a bit of a bump.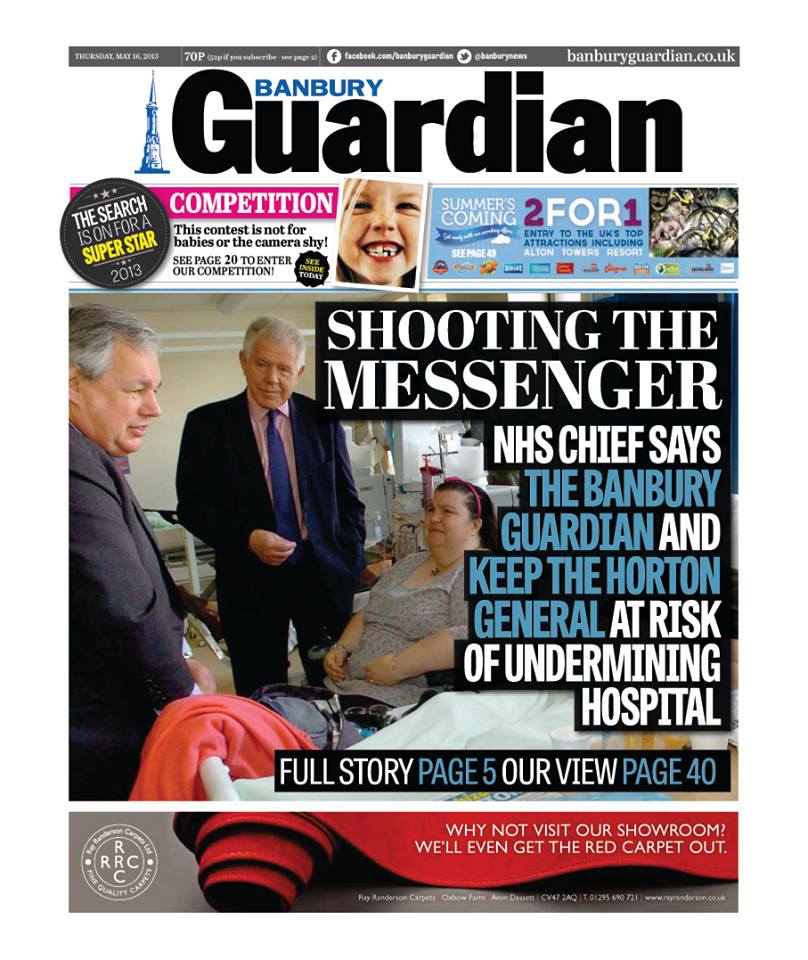 In a letter to Sir Tony Baldry, OUHT Chief Executive Sir Jonathan Michael bemoaned the fact that OUHT staff are spending "a great deal of time" responding to questions from the Banbury Guardian and Keep the Horton General; and that our campaign risked undermining public confidence in the Horton, which he said "could result in precisely the scenario which the campaigners are saying they are seeking to avoid." He also went to some lengths to try to explain how removal of various services does not actually constitute a threat.

Keep The Horton General and the Banbury Guardian think it's important to ask questions about services at the Horton General Hospital, particularly when those services are removed without consultation or full explanation, and when we can't get clear answers to straightforward questions about the futures of other services on which a District General Hospital depends.

We've put a lot of effort into defending our hospital against those who would prefer to see as many services as possible transferred to Oxford, so we think it's unfair to suggest that we are responsible for undermining public confidence, when all we are doing is bringing the proposals to the public's attention. As the Banbury Guardian says in its headline: "Don't Shoot the Messenger!"

Acting Chair Charlotte Bird responded to Sir Jonathan's letter with this message;

"The aim of the Keep The Horton General Campaign is to ensure that the full quality services of a District General Hospital are retained at the Horton, in order to serve the rapidly growing population of Banburyshire.

In doing so, it is important to maintain a dialogue with the decision makers. It is often necessary to clarify certain points either where there is ambiguity, or where detailed information is lacking, or where patients have informed us that the system is not working as anticipated.
We are disappointed that the Chief Executive of the OUHT is frustrated at our attempts to communicate with the Trust and with the public"
As a group, we would be delighted to stop giving up thousands of hours of our free time to defend our services, if the OUHT would guarantee that they will be retained at the Horton General Hospital, and back this up by actually doing it. We maintain that in the absence of such assurances, we have correctly alerted the public to the fact that changes have occurred and are being proposed.

Here's what we need you to do

Last time services were threatened, the opinions of the GPs were instrumental in helping the Independent Reconfiguration Panel reach their decision to retain paediatrics and obstetrics at the Horton General Hospital.

The GPs are in charge of commissioning services now (ie deciding which services and treatments will be funded and by whom).

We need you to WRITE TO YOUR GP, RIGHT NOW so he or she understands how important it is to keep Emergency Abdominal Surgery, and the full services of a District General Hospital, at the Horton.
Tell them how stressful it is to get to the JR, and how much it costs you in time and money. If you've been sent to the JR for treatment, make sure they know how long it took to be seen, how long you spent on a trolley, how long you waited for medication, how you got there and back, how much inconvenience you and your relatives suffered.

3,000 of you wrote last time, and it made a difference. Let's make a difference again.
What's going on?
Right now, we're facing several threats.

Emergency Abdominal Surgery (eg gallbladder operations, appendicitis, pancreatitis, diverticulitis) was suspended without notice back in January due to sudden loss of consultant surgeons. The stated plan was to transfer people needing Emergency Abdominal Surgery to the John Radcliffe in Oxford; about 5 people per week. However, in practice, a much greater number are being transferred, because the initial assessment is not being done in Banbury.

In many cases, patients are being asked to make their own way there. This takes up to 1.5 hours each way by car, or 3 hours each way by public transport (up to 5.5 hours from villages). Furthermore, patients are experiencing horrendous waits when they get to the JR. One person was shuffled back and forth between the hospitals, suffering a wait of 54 hours between admission and being seen by a doctor on the ward. Another waited 20 hours on a trolley before being given a bed.

Other potential threats include radiology and pharmacy, which are vital support services that enable the hospital to function properly 24/7. We're worried about the domino effect on other services.

There are inexplicable plans to replace the self-contained Special Care Baby Unit with cots at the mothers' bedsides in the general ante-natal ward.

And last but most worrying, there is also a wide-ranging consultation which will consult on making the Emergency Abdominal Surgerychanges permanent. This was due to start sometime in the summer, but has now been delayed. However, we are concerned that this decision may have already been taken, as it has been stated that the missing surgeons at the Horton General Hospital will not be replaced.
What are we doing about it?
Right now, we're doing a lot of work behind the scenes trying to get to the bottom of what's going on and who is actually of influence. There's no Independent Reconfiguration Panel to see sense this time, so it isn't clear-cut.
What can I do?
You can help by:

1) Joining our facebook group Save Our Horton. Invite your friends to join so we can contact all our supporters instantly, in our own words. Go to Save Our Horton and use the box in the top right to add your friends. Please share messages and images you find interesting on your timeline to help raise awareness.

2) If you are a member of staff, contact us in confidence to tell us about your concerns. Are you worried about patient safety, service changes, your own working conditions, or anything else? If you have concerns, do you know how to escalate them? We promise we will NOT reveal your identity.

3) If you are a patient, we want to hear about your experience. How long did you have to wait? Did anything go wrong? How did the fact that you were in the JR instead of the Horton impact you and your family?
4) Tell your GP. The government's forced them to take charge of commissioning (deciding how the money is spent) so they need to know our priorities. If they don't know things are going wrong, they can't act.

5) Can you help with the campaign? We need you! Our previous campaign was a hugely successful mix of personalities and skills; public speakers, NHS insiders, web/graphic designers, signature collectors, minute takers, good organisers, report writers and number crunchers. Whatever your skills, we need you.

Please email us at keepthehortongeneral@hotmail.co.uk or message Horton Campaigner on Facebook.

Thank you for caring about our hospital.

Together, let's make sure we get the service we're supposed to have.
Community Partnership Network meeting
5 March 2013
Campaigners from Keep the Horton General (aka Save Our Horton) will be attending the Community Partnership Network (CPN) meeting on Tues 5 March.

Topics for discussion are Emergency Abdominal Surgery, proposed changes to SCBU & pharmacy services, and the forthcoming consultation on the future of the Horton General Hospital. We're hoping to raise a lot of currently unanswered questions and also communicate the rising levels of concern in the community.

What is the CPN?

The CPN brings together representatives from all the groups that have declared an interest in health services in Banbury. We have two representatives on the CPN.
In theory, the Oxford University Hospitals Trust has to run all proposed service changes past the CPN, and take the CPN's view into account when making decisions..
Surgeons Removed from Horton Posts
February 2013
The Banbury Guardian has revealed that the reason for the suspension of emergency surgery at the Horton General Hospital was due to the removal of two surgeons from their posts. One was dismissed and the other removed to "other duties". When asked why, the Oxford University Hospitals Trust refused to comment.
Although we were initially advised that this move would affect only around 5 patients per week, commenters on our facebook group tell us that the impact has been much greater. Some patients were told to make their own way to the John Radcliffe, 29 miles away, where it took up to 17 hours to be seen.
We don't think this is acceptable and are asking people to tell us of their experiences to help us decide an appropriate response. Please email keepthehortongeneral@hotmail.co.uk to tell us about your experience.

Emergency Surgery Supended at the Horton General Hospital
January 2013
Emergency surgery for cases such as appendicitis or bowel and gallbladder problems is being suspended at the Horton General Hospital from Friday 18 January 2013.

In a move that has shocked staff and campaigners by its speed, the Oxford University Hospitals Trust (OUH) hastily told Horton staff and the community partnership network of stakeholders in confidential meetings yesterday (Wednesday) morning. Unions have questioned the immediate suspension of emergency abdominal surgery without public consultation, which is required for major service changes at hospitals.

But the trust says it has been forced into the move because of an 'unexpected' loss of surgeons on emergency rotas which cannot be covered by Oxford specialists without affecting their work at the John Radcliffe. "There are no longer sufficient numbers of consultants in the emergency surgical team at the Horton to secure a safe service for patients," the OUH said in yesterday's statement.

"Therefore the trust has taken a decision to suspend emergency abdominal surgery at the Horton General Hospital and transfer such surgery to the John Radcliffe from Friday," its statement said. Paul Brennan, director of clinical services, would not expand on the reason for the shortage of consultants.

However he did say if colleagues from the JR were brought in to cover the shortage at the Horton it would impact on the care of Oxford patients and too many positions had been vacated to be filled by locums.

He said: "We do strongly believe emergency surgery should be rationalised but we didn't want to be in the position where we are taking action in advance of the consultation."

Trust bosses say the move will still form part of a three-month public consultation for a Vision for the Horton which begins in March.

GPs have already been told to refer suspected abdominal emergency cases to the John Radcliffe Hospital, Oxford instead of the Horton and ambulance crews will take such patients directly to the Headington site.

The OUH said the change affects an average of only five cases a week. Freeing surgeons from emergencies would allow them to perform more routine abdominal surgery at the Horton.

They rejected fears of a knock-on effect on other emergency services such as A&E in cases such as traffic or sporting accidents if ambulance crews suspect internal damage to organs such as the spleen.

A trust officer said paramedics would be told to take patients with suspected internal injuries straight to the JR, as is the current situation.

Unconfirmed cases would be taken to the Horton for assessment and stabilisation and only if internal injury were confirmed would they be taken by blue light to Oxford. A second surgeon from Oxford would attend the Horton to assist with patients too badly injured to be moved.

She said trauma services would not be affected and operating theatres will continue to be open and staffed night and day.

In its statement the OUH wrapped up the suspension of emergency abdominal surgery with news that it plans a £1m upgrade to outpatients, has secured maternity and paediatric services using enhanced consultant rotas, is expanding day case surgery and is also committed to securing A&E services with these, into the future.

Charlotte Bird, acting chairman of the Keep the Horton General Campaign said: "It's too early to say much as we haven't analysed the statement but is this the thin end of the wedge? Will we get the service back? Is the OUH likely to reinstate this emergency surgery if it's already been taken on by the JR for five months?"
Proposed changes to SCBU
January 2013
We want to understand how the potential changes to SCBU would affect users.

If you have used the Horton SCBU or post natal ward, we would like to hear about your experience, and in particular, how you feel it would have been different if SCBU had been merged in with the post-natal ward. What would your concerns be?

If you would like to contribute, please email your response to keepthehortongeneral@hotmail.co.uk

(Please note - it is possible that, IF this proposal goes any further, we might wish to share your response with the Trust to help them understand how their decision would affect people on a personal level. If you would like your submission to remain anonymous, please write KEEP ANONYMOUS in the subject line)

Thank you.
We need you!
December 2012
Are you worried and frustrated about current threats to the Horton General Hospital?

Would you like to do more to help?

KTHG are in need of positive, committed people who want to make a difference. At the height of a campaign, we meet about once a week to talk through developments and plan how to respond. We need to get a few more people on board as soon as we can, so you can get up to speed while the volume of information is still manageable. The best campaigns involve a mix of personalities and skills; the only requirement is that you are a team-player.

Email keepthehortongeneral@hotmail.co.uk if you want to get more involved.
Proposed changes to SCBU
December 2012
We are keeping a close eye on the proposed changes in the way SCBU operates, and have asked for a detailed report on the options being looked at before the next meeting of the Community Partnership Network in March. We have been given written assurance that whatever change might be made, there will continue to be the same level of SCBU provision at the Horton.
Trust seeks Foundation Status
June 2012
The Oxford Univeristy Hospitals Trust (OUH) is beginning a consultation to become a Foundation Trust, a move which would see it getting more control over its own finances, and which it must complete by late 2013.
Management argue that this will give the public more say in their services, but unions argue that it leads to unhealthy competition between hospitals.
Banbury's public consultation is to be held on Tuesday July 24th, from 2.00 until 3.30pm at St Mary's Church.
Budget cuts may threaten Horton jobs
June 2012
A local newspaper has revealed that the Oxford Univeristy Hospitals Trust (OUH) could be forced to make £160m savings over four years as part of the government's drive to slash £20bn from the NHS budget. OUH Chief Executive Sir Jonathan Michael said that £49m savings (5% of total budget) must be found in the first year. Plans are in the early stages so it is not yet possible to say which services may be threatened as a result.
Strategic Health Authority review threatens maternity services
June 2012
We have learned of a potential new threat to obstetrics (doctor-led maternity) at the Horton General Hospital. It is possible that all six obstetric trainee posts may be abolished by August 2014, leaving the Horton as a midwife-led unit.
This is due to a review by the South Central Strategic Health Authority, which says that the number of births at the Horton is too low; and a decrease in the number of trainees across the NHS in general.
Last time we faced this threat, midwives, local GPs and the Independent Reconfiguration Panel agreed that the JR is too far for women in labour to travel. They agreed that moving doctor-led maternity to Oxford would leave women in the Banbury area with an unsafe service. Furthermore, the government states that women are supposed to be given a choice of home birth, midwife-led or consultant-led delivery. This is difficult if there is no consultant unit within 25 miles.
Of course, there are a lot of people working hard to find a solution. But in the current climate, this isn't going to be easy. So how can you help?
1) Any increase in the number of births at the Horton General Hospital will help. It is important that expectant mums know that THEY can choose where to give birth, and that they do not have to follow their doctor's recommendations (although obviously this is wise where safety is concerned). The more relaxed, "family" environment offered by the Horton is available to all women, including those living in Kidlington, Bicester or even Oxford itself.
Do you know anyone who is expecting? Perhaps someone who has simply assumed that they will use the JR without giving the other options any thought? Please tell them that the Horton offers an easily accessible service, in a relaxed, family atmosphere, with full consultant support in the unit. Encourage them to visit the Horton and the JR and experience the difference for themselves.
2) Please join our Save Our Horton facebook group and encourage your friends to do the same. Becoming "friends" with Horton Campaigner means we can contact as many people as possible, right when we need to.
The Horton - under threat again.......
August 2011
Keep the Horton General Campaigners were disappointed to learn that the Oxford Radcliffe Hospitals Trust (ORHT) is pressing ahead plans to end the Horton Hospital's dedicated gynaecology ward. Banbury gynaecology ward (G-Ward), where specialist nurses care for women having operations, suffering miscarriages, post-childbirth problems, haemorrhages and other problems, will end its overnight care this month.
The ward will become a daycase unit for minor operations and patients needing to stay will be put in E Ward, a mixed surgical ward.

G-Ward staff were told of the plan as school holidays began at the end of July. In spite of staff and union rep absences they drew up a paper citing potential problems with the changes and presented an alternative plan, allowing the ward to stay open fully from Monday to Friday.

Last Wednesday, Keep the Horton General (KTHG) campaigners and other stakeholders attended a packed meeting with senior representatives of the ORHT. KTHG vice chair Charlotte Bird said, "We were lead to believe the ORHT proposals were not set in stone and the counter proposals would be discussed at a meeting attended by management and the Banbury staff last Friday. One nurse asked for clarification and was assured the nurses would be given feedback on Thursday to be digested and discussed ahead of Friday's meeting.
"On Thursday, only a day after the meeting at Bodicote, Prof Stephen Kennedy, clinical director of women's services, wrote a letter to staff saying the counter proposals would not be part of the way forward and the trust's plan stands - G ward becoming a day facility Monday – Friday with anyone needing to stay overnight accommodated on the General Surgical, E ward.
"There was no discussion, no compromise, no opportunity for the people on the front line to have their say, job done. It was only by sheer chance members of the campaign found out about this because of the complete lack of communication by the ORH with stakeholders," said Mrs Bird.
KTHG believes that while the standard of daycase services in Banbury and Oxford is now fairer, the standard of care is being reduced for inpatients with more serious problems. For example, gynaecological patients in Oxford who need overnight care have it in a dedicated area in the Women's Hospital. Mrs Bird added, "So, women of Banbury and surrounding areas, rest assured that the KTHG campaign and the nursing staff at the Horton Hospital did everything they could to save gynae service for you but I'm afraid on this occasion we failed."
Sheila Snooks, Unison rep at the Horton said last Wednesday's meeting was a waste of time. "No one knew the result of staff consultation but the final decision must have been taken," she said. "Is this all part of trying to meet the criteria needed for becoming a Foundation Trust? We know the trust is under awful pressure to save money but Stephen Kennedy said it was about bringing the service in line with Oxford"
In his letter to staff, Prof Kennedy said: "As a result of particular concerns... in relation to beds available for overnight and major gynae emergencies we are taking steps to amend the number of inpatient beds available (in E Ward) from four to six. We are committed to moving forward with our proposals... ensuring equity of care and the expansion of services in north Oxfordshire." He said implemention would start this month and progress over the next three months.
The Oxfordshire Health and Overview Scrutiny Committee - which referred Horton downgrading plans to the Independent Reconfiguration Panel, winning a reprieve for full acute services - will discuss the changes next week.
Charity Event
Katherine Allen Bridal in Banbury are holding a charity fundraising event for The Horton General Hospital, with an evening of drinks and nibbles at their shop on Thursday 6th October, 6pm – 9.30pm. Entry will cost £5 with all proceeds going to the charity. The evening will include entertainment from harpist Karina Bell, beverages provided by Vitis Wines. Proceeds will be donated to the Horton General Hospital.
July 2011
Campaigners have been recalled to the fight, as once again the people of North Oxfordshire find services at the Horton General Hospital under threat

In response to the difficult financial climate, the ORHT has announced the loss of 10 medical beds and 7 surgical beds at the Horton General Hospital, plus changes to the gynaecology service that will result in the loss of a further 8 beds. The ORHT hopes to offset the planned bed losses through innovative solutions to the perennial problem of bed-blocking. However, the Horton seems to be bearing a disproportionate share of the bed losses, at 7% of total beds, compared to 3.2% at the JR and Churchill sites.

We are also aware that the plan to find and implement a safe, sustainable maternity service in Banbury is slipping - despite the Independent Reconfiguration Panel concluding that Banbury needs a full obstetric service.

Our response:

We acknowledge that in the current financial climate the ORHT's budget is being frozen in real terms, while the demand for services and the cost of services rise, and that this will create problems for service provision.

We support the ORHT's efforts to reduce bed-blocking, which would, if succesful, go some way toward mitigating the planned losses of beds.
We want open and truthful communication between the ORHT, staff and external stakeholders, to avoid a return to the bad old days of mistrust

We want to work with the Oxfordshire Clinical Commissioning Group to ensure that changes are made where there will be least impact to current and future sercices, and the Horton General Hospital does not bear an unfair share of the service cuts.

We want the Oxfordshire Clinical Commissioning Group to commit to finding and implementing the IRP-compliant obstetric solution as soon as possible.

What can you do?

First, if you have a facebook account, join our Save the Horton facebook group, and encourage your friends to join too. It's the fastest and most direct method we have of communicating directly with the people who care about the Horton General Hospital.

Second, we're going to ask you to write letters. Thousands of you wrote last time the Horton General Hospital was threatened - personal, powerful letters that persuaded the IRP to support our cause. We'll give you the addresses as soon as we have them (they'll be different to last time)

Personal letters are most effective but, the key points as we see them are:

- Banburyshire needs (and indeed the IRP requires) the Horton remains a local, fully functioning General Hospital

- An IRP-compliant maternity (obstetric) solution must be put in place as soon as possible, to safeguard the service in the current financial climate

- When the ORHT and OCCG make decisions, they must be careful to avoid undermining other services, and must ensure that any cuts at the Horton are fair and proportionate.

- Please be reassured that so far as we are aware, A&E and paediatrics (children's ward) are not threatened by the current plans.


OLD NEWS BELOW
- but remember, we did it before
- we can do it again!


WE DID IT!!!!!!!!!!!!!!!!!

Campaigners celebrate with a commemorative photo call - and receive a surprise visit from PM David Cameron
2 July 2010
Campaigners and stakeholders, gathering for a commemorative photo call to celebrate the decision to save paediatric and obstetric services at Banbury's Horton General Hospital, were amazed to find Prime Minister David Cameron was a surprise guest at the event.
Mr Cameron, whose constituency falls partly within the Horton's catchment area, has been an enthusiastic supporter of the cross-party campaign. He had previously visited the hospital to show his support and, together with other local MPs, spoke before the influential Independent Reconfiguration Panel, helping to influence their historic decision.
Mr Cameron is pictured (below left) with tireless Keep the Horton General Campaign chairman George Parish, local digitaries and campaigners, and (below right) with campaigners Charlotte Bird and Jan Justice.
Photos: Steve Wheeler.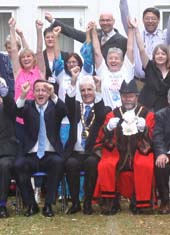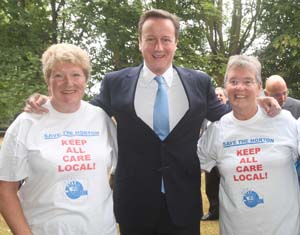 WE DID IT !!!!!!!!!!!!!!!!!
ORHT BOARD APPROVES PLANS TO SAVE SERVICES
14 June 2010
At their board meeting this afternoon, the Oxford Radcliffe Hospitals
Trust APPROVED the plans and agreed to provide their share of the
extra cost of running 24/7 paediatrics and obstetrics at the Horton
General Hospital in Banbury. The plan, which will see childrens and
maternity service provided via a consultant led service, will now be
put in place, with the recruitment of additional consultants.

This means that our sick children and mothers in labour will continue
to receive safe, local treatment instead of having to spend hours in
traffic to get to the JR in Oxford. We're certain that lives will be
saved as a result of this decision, and the lives many others who rely
on open access will have been saved from becoming immeasurably harder.

There are too many people to thank individually for the huge
commitment they've made to this campaign over the last 7 years - but
you know who you are guys and I'm sure everyone is sending you a big
thank you for putting your lives on hold for so long. Long may this
solution last!

Thank you everyone, and please - join or stay a member of our facebook group - it's the cheapest and most direct method we have of keeping in touch with
people who care about the Horton. Heaven forbid, we need to call on
you again.

But for now - Hands are most definitely OFF the Horton! .
Oxfordshire Primary Care Trust agrees to support the consultant-led service
27 May 2010

The plan to safeguard obstetric and paediatric services at the Horton General Hospital has moved a step closer to reality, as the Primary Care Trust has agreed to support the proposal to allow Banbury's 24/7 childrens and maternity services to continue.
They have agreed to provide £1.5 million towards the extra £2.4 million it will cost annually for consultants to run the services.
Now it is up to the ORHT - which runs the Horton - to agree the plan and decide whether it is willing to fund the remaining £900,000 per year. The Board meets on 14 June.
We'd like to tell the ORHT how much the Horton means to the people of the Banbury area, so please email us with your messages of support. We'll pass your messages on in advance of the meeting.
You can email us at keepthehortongeneral@hotmail.co.uk
Programme Board agrees to support the consultant-led service
May 2010

We're very pleased to report that the Programme Board has agreed to support the consultant led service. So the next decision is in the hands of the Primary Care Trust, who will decide on Thursday 27 May whether or not the service is affordable.
We've sent hundreds of emailed messages on, to support them - but keep them coming in to keepthehortongeneral@hotmail.co.uk !
After the PCT, the decision is in the hands of the ORHT.
"SAVE THE HORTON ' now on Facebook
March 2010

"Save the Horton" has been on Facebook since 2007, but we've gained nearly 1000 new members in recent weeks as supporters forwarded our plea for emails (below) to their friends. This is great news for us, as it means we can contact even more people quickly, directly and at no cost.
We use our facebook group to ask supporters for help at key points in the campaign; for example writing emails in support of the Horton before the vital decisions over the coming weeks, and if necessary, to organise public protests such as Hands Around the Horton or the Mayor's March.
If you want us to keep you informed of developments, please join our facebook group by following this link (you will need to create an account first, if you aren't already a member, but it's quite painless)
PLEASE EMAIL US TO "SAVE THE HORTON'
The plan that would save vital services at the Horton is in danger of being thrown out as "too expensive". This would leave us back where we were two years ago – with our sick children and mothers in labour facing an unsafe and inhumane trip of 30 miles, 1.5 hours in traffic, to the John Radcliffe hospital in Oxford.

The extra cost of maintaining the 24/7 children's ward and a doctor-led maternity service at the Horton is expected to be around £2m per annum. That's just 0.22% (less than a quarter of one percent) of Oxfordshire's annual health budget (£892m p/a).

We think that's worth spending to keep our children and mothers safe.

WHAT WE NEED YOU TO DO

We're asking you to send us an email in support of the Horton's 24/7 children's ward and doctor-led maternity service. We'll pass on all the messages to the Primary Care Trust before they decide whether or not to spend the extra money.

If you're short on time, a one-liner is better than nothing, but a personalised message is even better.

Please send your email to us at keepthehortongeneral@hotmail.co.uk
and copy it to baldryt@parliament.uk

We know that public messages of support make a difference because YOUR MESSAGES OF SUPPORT were key in the IRP's historic rejection of the original plans.

Please play a part one more time and together we can SAVE THE HORTON!
Putting money before lives?
Banbury MP and Horton General Hospital campaigner Tony Baldry said it is vital people write to him at baldryt@parliament.uk to stress their determination that a full-scale downgrading of children's, maternity and A & E services must not happen.
His move comes after Oxfordshire health bosses have suggested to him that the preferred plan to maintain paediatric cover at the Horton may be too expensive.
Hospital campaign leader George Parish promised 'all hell will be let loose' if the plan is abandoned.
"Horton General Hospital services are still under threat. I don't want anyone to be under the illusion the plan is a done deal," Mr Baldry said this week.
"As a community we must make it clear we won't settle for anything less than continued secure maternity, children's and A & E services. We can't sleepwalk through the next few months assuming all is well. The reality is we're no further forward than a 'preferred proposal'.
"I am asking all my constituents and others in the Horton catchment area to take five minutes to write to me or email me at the House of Commons to express their clear support for continuation of children's, maternity and A & E services at the hospital."
Mr Baldry said he understands why people believe services would be safe into the future after Secretary of State Alan Johnson accepted advice from the Independent Reconfiguration Panel (IRP) that Oxford is too far to move 24-hour maternity and children's services.
In early 2008, Mr Johnson asked Oxfordshire Primary Care Trust (PCT) to liaise with the Oxford Radcliffe Hospitals Trust (ORH) and the community to find a solution to specialist staffing problems. "That offered the opportunity to find alternative options which has been done after rigorous work over the last couple of years, involving many people attending numerous meetings and much hard work carried out in good faith," said Mr Baldry.
"Everyone was entitled to consider services were safe when at the end of the two years the PCT said their preferred option was a consultant-delivered children's service enabling the special care baby unit, consultant-led maternity and other services to be protected.
"However what both the PCT and ORH are now saying is they are having to consider whether that proposal is deliverable in terms of whether they can find the doctors and if they can afford it."
Mr Baldry said the PCT is unlikely to have obtained sufficient costings promised for the end of March and before the General Election. And even if the finance is available it would take the ORH many months to recruit specialists, he said.
"In the meantime we've got to pray the interim arrangements the ORH has put in place for the Horton will stick, because they were agreed only for two years," he said.
Mr Baldry said the first thing he would do if re-elected will be to ask the Speaker for a parlliamentary debate on the future of the Horton.
George Parish said: "If the plan works out we will have a party for 5,000 in People's Park. If not there will be 180,000 cheated, angry patients outside the John Radcliffe demanding answers," he said.
"We might as well not have had the IRP inquiry if this isn't made to work. Our fight has gone on since the Task Force in 2003; it seems it has been purposely left until the election. If the 24-hour children's ward is not saved all hell will break loose and I'll be at the head of it. Money can't be the issue. This is about is children's and young mums' lives. We expect them to find the money."
Mr Parish said he was aware Oxford paediatriatricians did not want to cover Banbury night and day. "People think they can rule the roost. They should be prepared to rotate; they are meant to be preserving lives not risking them - that is what this is all about. The IRP said downgrading wasn't right, Alan Johnson said it wasn't right, Andy Burnham (Secretary of State) wants it sorted out.
"We support Tony Baldry all the way and the Keep the Horton General Campaign is on alert," he said.
Supporters should write to Tony Baldry MP, House of Commons, London SW1A 0AA or email him at baldryt@parliament.uk.
Horton campaigners, attending a Community Partnership Forum meeting on 29 September 2009, were astounded to hear a presentation by a group of JR and Horton paediatric consultants which outlined the downgrading of children's services once again.
Although it emerged only under questioning, the proposal was for the children's ward to operate only between 10am and 10pm, with children needing care outside these hours being transferred to the John Radcliffe. Just as in the original proposals, which were soundly rejected by the Independent Reconfiguration Panel in 2008, this would have a knock-on effect on the Special Care Baby Unit and the obstetrics (consultant-led maternity), neither of which can operate without 24 hour paediatrics.
Shocked campaigners met the following day with representatives of the Primary Care Trust. (The PCT essentially hold the purse-strings and decide which services to commission, but it is up to the Oxford Radcliffe Hospitals Trust to determine how to actually provide the services) Campaigners were immensely relieved to hear that the PCT will be demanding that a full, 24 hour paediatric and obstetric service is maintained at the Horton General Hospital.
Reconciling the need for these essential services with the difficulty of finding a solution that all stakeholders support is something the Keep the Horton General campaign are fully engaged in. We look forward to the Better Healthcare Programme's report, which is due to be presented to the Programme Board on 13 October at Bodicote House.
As the process draws to a close, please keep an eye on the website and local press in case we need to call on your support. If you have anything to offer - time or resources - we'd love to hear from you. Please contact us.